PREMIUM IPL & PIP TONING SYSTEM
A-TONE allows highly effective and safe treatment using low voltage power supply, which makes the specific wave light penetrated into the deep skin selective, PIP (Pulse in Pulse system), and the innovative lamp design.
A-TONE is optimized to treat light pigments in the deep skin, effective on efficient toning, and hair removal without side effect.
Blemish, freckle, & light pigmentation
Safe treatment with no side effects
Effect on both coarse & light hair removal
Improves acne
Vascular treatment
Improves skin tone & reduces pores
Skin lifting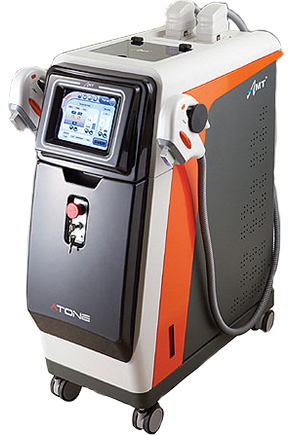 IPL= INTENSE PULSED LIGHT
SPECTRUM OF PART OF VISIBLE LIGHT & PART OF NEAR INFRARED  500- 900NM OR 12NM 
A-TONE IS CONSISTED OF 2 HAND PIECES: (1) PREMIUM IPL TREATMENT (2) IPL (PIP) TONING
PIP system allows delivery of the same amount of energy within the relatively short emission time by using of instant high peak power enhancement. This non-invasive treatment method allows effective treatment of skin pigmentation, freckle, acne, vein, hair removal, etc. with minimum pain and skin damage. 
PIP allows excellent treatment for:
Epidermal pigmentation on high risk skin types such as 'Fitzpatrick skin type V'
Freckles that laser toning can not treat
Blemish that Q-switched laser of IPL cannot treat
Remaining pigmentation after general IPL treatment
Post inflammatory hyperpigmentation